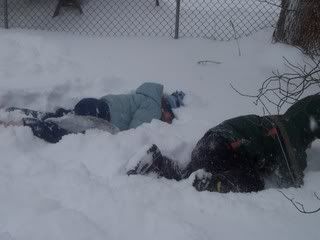 making burrows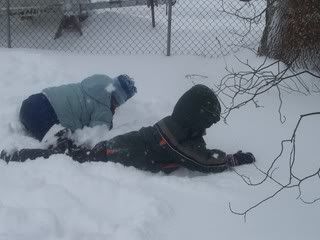 more burrows- including the kitchen
in the burrow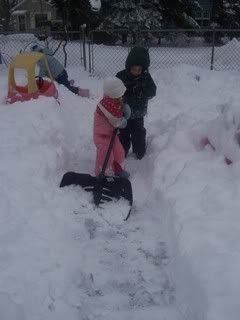 my little shovelers :)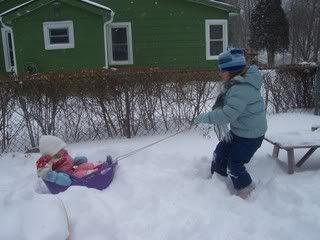 JA was sledding Sophia around, with a few spills into the snow along the way!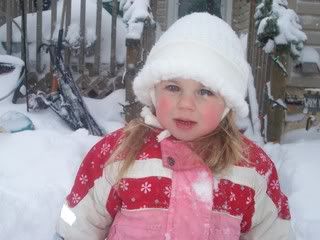 Cheese Mommy!!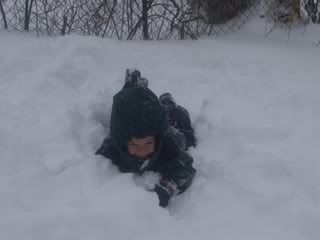 Zachary just hanging in the snow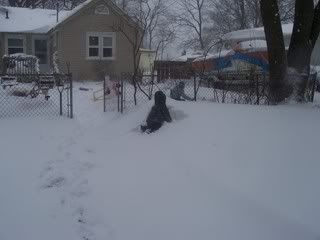 Holy drifting Batman!!
These are the photos I took today during the snow storm. It was a snow day from school, Mike went to work late... it snowed and snowed, and blew all over! The kids were just itching to get outside. So we bundled up, and went outside. Sophia had a hard time, and didn't enjoy herself for the first little while. The snow was up to her waist, or more, if she could get past getting INTO the snow! LOL! JA and Zachary were making 'burrows' like bunnies, and JA even had a kitchen, bedroom and living room burrow! I decided to make the most of my time outside, and shoveled the sidewalk to our driveway. I then shoveled just enough to get the van into the driveway (provided it could make it down our street!!). I saw that the neighbours had not been out to shovel yet, so I zipped over there, and in the spirit of Random Acts of Kindness week, I decided to shovel for them. The husband had heart surgery 2 years ago March, and is still on oxygen, his wife is close to retirment age. I tried to get in, shovel, and get out before they noticed, but with a giant picture window... well, needless to say she came out to thank me profusely! Turns out the husband is in the hospital with pneumonia, and he had just called to ask if she was going up to see him. I feel good that she could get out of her driveway to go there!!
When Mike finally got home from work, we all bundled up again, and walked over to the local park. The kids did some tobogganing, and played on the slides (wow, do they ever zip down when they are wearing snowpants!!), and came home.
It was a wonderful Valentine's Day spent with the children, and each other. It's extending to tomorrow as JA's class party will be tomorrow in light of the snow day today.
I love snow... but come on SPRING!!!