Stampin' Up is having a GREAT SALE with the purchase of our Starter Kit !!! When you order the Starter Kit you will receive absolutely FREE AN ENTIRE FULL SIZE INKPAD FAMILY !!!! WOW !!! Here are more details:
Purchase the
STARTER KIT
between August 10 and September 30, and you'll get to pick the family of your choice--colour family, that is--of Classic Stampin' Pads FREE. That's a $79.95 value! And we've designed our exclusive coordinating colour families (including our In Color collection) so that every colour fits in.
If you wanna do what I do OR just want a great start to stamping please free to
email me
and I'll do whatever I can to help you out !!!
I made this cool cool album last night. It was quick and easy, and FUN!! I got the idea from
Corinne
who also gave me the instructions! If you want to make one of these, let me know, as I'm running a class that focuses on the Accents and Elements tins this fall!
Anyway, here is the front view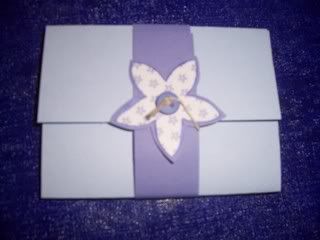 and the open view