So here are a few photos from her day!
I made this castle cake (thanks for the instructions Mahlah!) It took FIVE 8" square cakes. I used only 4. It was fun, but wow, that was a LOT of cake!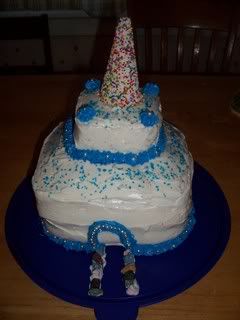 She got lots of great gifts - Polly Pocket Pets, a 20$ gift card from Wal Mart, game, books, a mermaid puzzle, a pack of gum, teddy bear, Bratz doll, and a few other things I cannot recall at this time! LOL!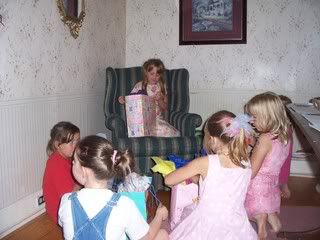 We had a girly party. The girls all made blue glass bead necklaces, and we made the loot bags. We stamped the fronts and backs (made of cardstock), then stamped a crown and cut it out, then glittered it up! The girls had lots of fun. We served pizza, chocolate milk and of course, LOTS of cake! LOL! The girls each made their own 'circle' pizzas (english muffins!), and Mike kept them all straight so each kid got her own!
So, my baby is 7. Seven?! How did that happen!?! She's in grade two. She's growing up too fast!!