As I've been informed, not to be confused with "Smokin' Acetate" LOL! I have started a marker club, and our first get together was last night. Here are the two projects we did. The first is using the Polka Dots and Paisley set that is featured in the
Spring Mini Catalogue
. Right now if you purchase the Polka Dots and Paisly set, matching jumbo wheel, and co-ordinating patterned paper pack, you get 50% off one item in the Spring mini!! Anyway, here is the card featuring that set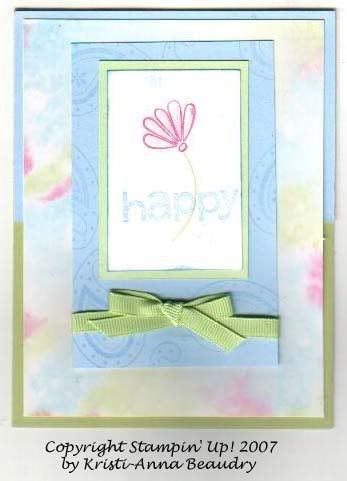 The second card we did, features the Wild Rose stamp set, one of my personal favourites!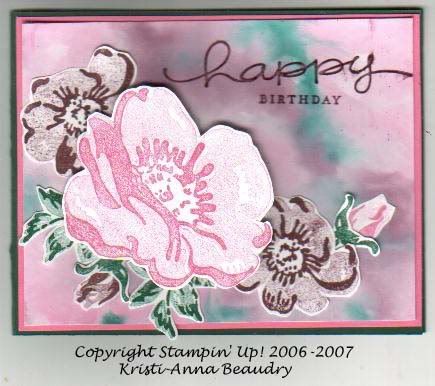 It was a great time!! :) If a marker club or a 'stamp' club are of interest to you, feel free to ask! The rewards are amazing!!
At my 5$ card night, we did a cool card featuring punches (oval, and 3/4 inch circle)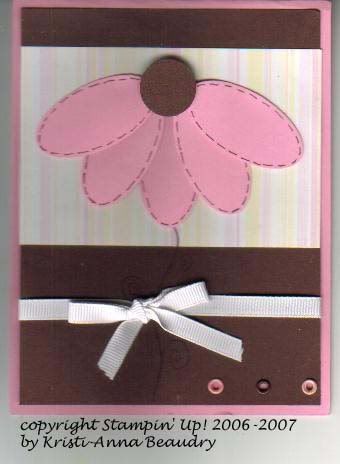 Our other card for the evening was a masculine birthday card featuring French Script, Linen, and Artifacts (my fav for the guys!).
And lastly... I rec'd this beautiful sample with Polka Dots and Paisley stamps in the mail from Karen Duke this week!! She's given me permission to post it here for you all to see :) Thanks Karen :)
I will be uploading more card samples, and some photos from the kids ice-fishing trip! I'm sooo glad to have them home. Now if we could all be healthy it would be wonderful!! Zachary had the barfs on the weekend, and now Mike, Sophia and I are stricken with this awful head/sinus cold nonsense.
It was a beautiful day outside today, so I took the kids out to ride their bikes. I wish I could have enjoyed it more by feeling better!! :) Still, it was nice to wear our spring coats and rubber boots!! SPRING IS COMING!!!