...and she learned that trait from ME!! I just spent 90 minutes decluttering Julie-Anna's craft cart (aka CATCH ALL!). Holy smokes... there was all manner of stuff in there. I have a shopping bag of garbage (broken jewelry, empty wrappers for things, bits of this and that!), and a fair sized box full of paper recycling! In the box of papers were bits of cut up paper (ok, LOTS of cut up paper!), lots of scribbled on papers, construction papers, and a tonne of old school work. Now, I did save a couple of the school work things for her scrapbook - a few perfect scores on math papers, the 'grade one code' from her teacher from last September, and a spelling test. :) In the craft cart I found dried out markers, many pencils, crayons and other crafty stuff willy nilly all over the place. It's all condensed, and everything has it's own drawer. All crayons are accounted for, well, they are all together at least! Now to put the artsty stuff to good use!
I was prompted to declutter this as it was A) making me crazy to look at daily, and B) we went out and bought school supplies today!! We had a good trip out for school stuff. JA scored a great deal on a backpack - it's light blue, navy and a bit of black. It was 10$ and included the back pack, and a matching pencil case and insulated lunch bag! She chose that over a Tinkerbell backpack and a Princesses lunch bag. So we need to jazz it up, any suggestions? We also purchased some new markers for JA and some fatter markers for Sophia and Zachary, some pencil crayons, and that's it for school. While in Zehrs we also scored some Crayola chalk buckets (got 4 of them!) and a big bottle of bubbles, all at 50% off! Zachary chose a Spiderman lunch bag, and he was happy as a clam to have it!
Today was Zachary's last day of bowling. They had a cute little party with hotdogs, chips, timbits, and pop! All the kids got a trophy :) He was totally thrilled to get it! He went out with a 'bang' and a score of 102 :D The girls bowled too, Sophia did really well for her first real attempt!! Good practice, as she starts this league in a few weeks too!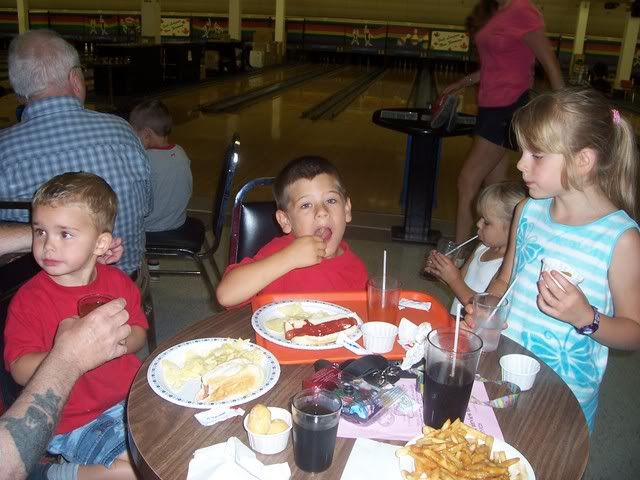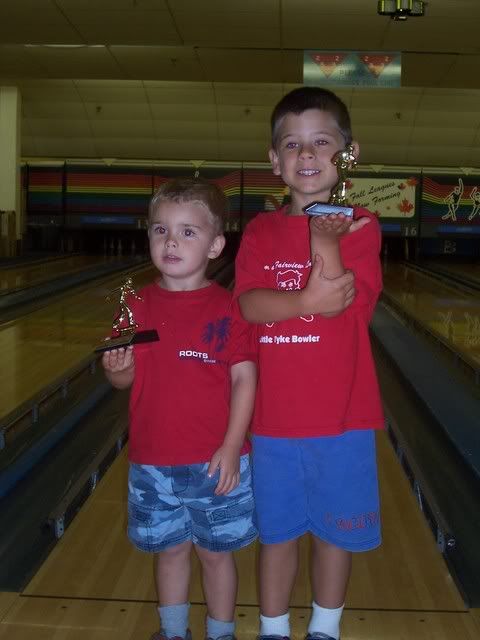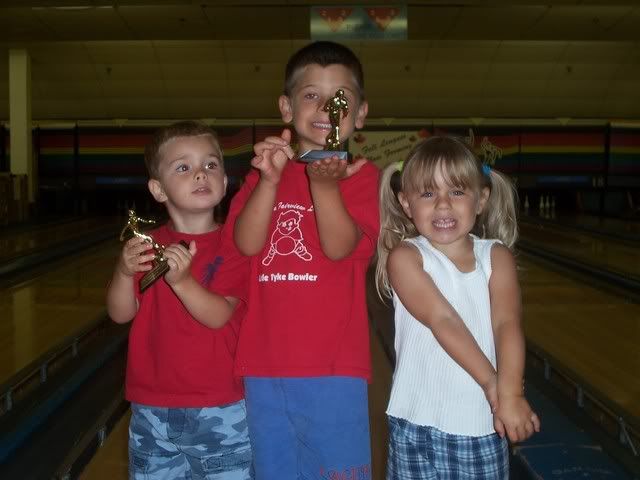 Well, I should tidy up my mess from the big declutter... tomorrow is a long day, with helping my mom ready her house for showing on Friday afternoon.