So on our way home from the trailer, I decide to do a 'drive by' at my mom's to see if she's up so I can call to say we are home. Not only are the lights on, but she's got company at 10pm!! Michael was kind enuf to remind me that my brother and his kids are down! LOL! So I backed up and went in for a few minutes. The end result... Kala (10) and Kyle (9) coming to sleep over. I wasn't sure what a great idea that was after JA having been up late for 10 days in a row!! However, come they did. Zachary was SO excited to have Kyle sleep in his bed!! Kala and JA shared the top bunk, and Sophia slept alone as usual.
So the kids went to Waterworks Park VBS at Laryssa's church (Laryssa being one of JA's favourite friends!) in Port Dalhousie. They had a FABULOUS time... so much so that Kala and Kyle convinced their dad to stay for the week! So Sun they all slept here, Monday they all slept here. Tues the boys slept at Nanny's, the girls did nails and slept here. Wed the girls slept at Nanny's, and the boys here. Thursday Kala and Kyle slept at their other Nan's with their Mom and their two little sisters. Friday was the last day for VBS, and so Mom and I and Sophia went to the closing ceremonies to see them sing and get their certificates etc. We spent the week back and forth eating at Mom's, eating here... it was crazy!! Friday night the boys slept at Nanny's, and Saturday was the end of Soccer Banquet Day. More on that tomorrow when I have the photos uplooaded.
This week along with VBS, we spent some time at the Pool Park, and swimming in our pool in the front yard.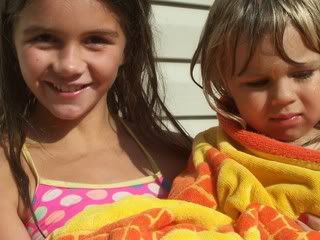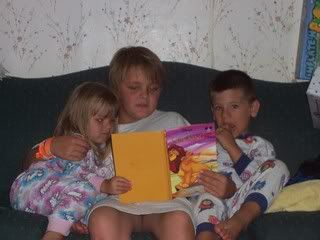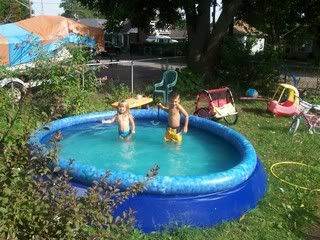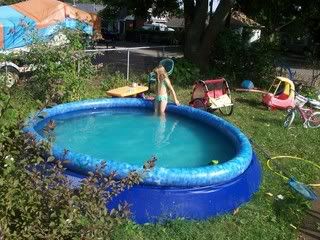 The girls got a hold of the digital camera, and took this awesome photo of our big sunflower!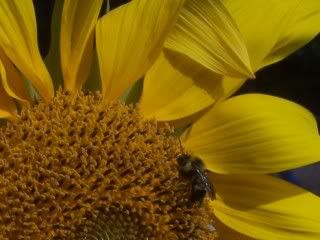 So it's Sunday night and the Kids and their Dad (my brother!) are still here. Thankfully, I have only my own children sleeping in my house tonight! :D Early to bed (well, earlier than the last two weeks have been!)... and we are going to TRY to resume some semblance of a schedule before school starts in a week.
I'll update on the
Port Weller Soccer League
banquet day (a wet wet day!) tomorrow... it's late, time for bed!!