Well, I had half this blog post written, and accidentally closed the window. UGH. So while I'm waiting for my pics to load up, I'll start again! LOL!
So JA went to the trailer for a week with my MIL and the other two grandkids. They had a blast! I was teary when she left, but ended up having a great time with just Zachary and Sophia. We spent 10-11 hours at the Arthur Street Wading Pool!! It was great! Michael took Zachary to Marineland for a morning (he was on afternoon shift), and they had a fun time just the two of them.
So on the following Friday, Mike and I packed up Zachary, Sophia and our gear and we headed to the trailer. We got delayed by a
dog on the 401 highway!
It wasn't a huge delay, only about 30 mins.
So we arrived at the trailer around 2:30, where we reunited with Julie-Anna (I didn't realize just how much I missed her until I had her in my arms again!). However, the reunion was short lived, as she wisked Zachary and Sophia off to the awaiting chipmunks! It's the 'thing to do' at the trailer, feeding the chipmunks. Sophia was fearless from the start (and so are the chipmunks!), and Zachary was right in there as well. It's so cute to see them feeding them!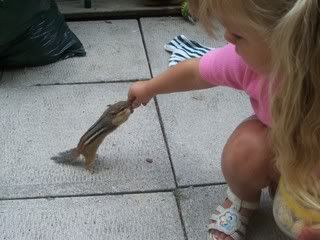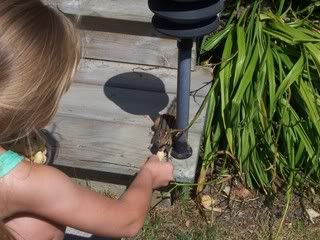 We spent some time at the parks at the trailer resort (in Buckhorn). However, it
started to rain while we were there, so we zipped back to the trailer.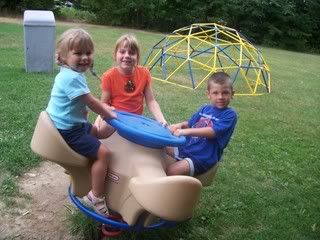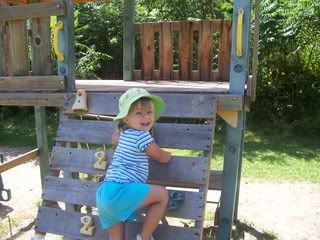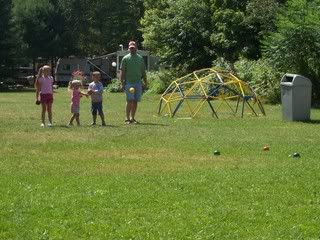 JA tried to teach Zachary and Sophia how to play checkers, too funny!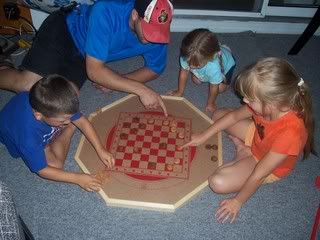 However, we were grateful for the rain, as there was a fire ban on in Peterborough. Too bad, as we really wanted to make S'mores at the fire! We compromised by having Daddy try roasting marshmallows on the bbq. They didn't turn out too well tho. So we ended up having 'fake' s'mores in the microwave!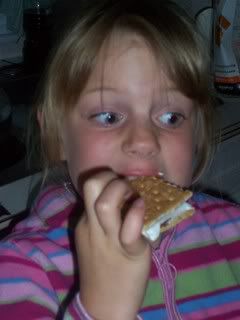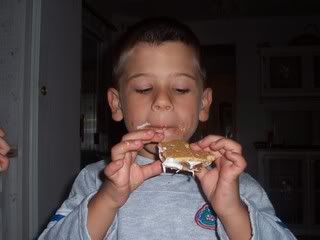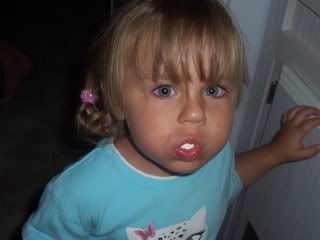 We did get to the beach on Saturday. It was COLD though!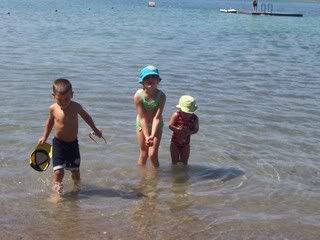 On Saturday evening the trailer resort was hosting "Hallowe'en" for the kids in the park. They had a contest at the office, which Sophia won for the 3 and under category. She got a blow up set of chairs and table. We had the kids costumes with us - Superman, Genevieve from the 12 Dancing Princesses, and a Blue Princess/Ballerina.
After the contest, the kids all went trick or treating around the resort. Man, they got a LOT of stuff!! Some of the people were handing out freezies and Kook Aid Jammers. I thought that was pretty awesome for August! But the candy, and chips, and snacks... each kid had about 3/4 of a shopping bag full! Insanity!
Sunday we spent tidying up, packing up, went for another quick 'dip' into the water, and playing at the park. :D
We had a relatively uneventful trip home, a little bit of traffic, but nothing to complain about!! We are planning and hoping to go back to the the trailer for Sophia's birthday weekend, just gotta make sure it works for the In Laws!! :D